Chuckit!
Show Filters
Showing 1–12 of 20 results
Showing 1–12 of 20 results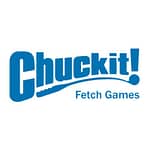 Originating in the UK, Chuckit!® is a dog toy company that's been making 'throwing' toys for your fast furry friend since 1998. From ball launchers to flying toys, indoor toys, tug or shake toys as well as a whole range of different balls for the air, the water or the dark, Chuckit!® has been in the 'fetch' business for more than 30 years! At the mere sight of a Chuckit!® toy, dogs know that some major playtime and adventure are about to go down…
Not only are Chuckit!® toys durable enough to withstand hours and hours of playtime, but they inspire it. These toys aren't meant to be played with by your pooch alone, but are intended to encourage interaction between human and dog. The toys' innovative and ergonomic designs have revolutionised the classic game of fetch, so you and your dog will be able to enjoy this quality time together – both reaping the rewards of a healthy, active outdoors lifestyle.