Charming Pet
Show Filters
Showing 1–12 of 18 results
Showing 1–12 of 18 results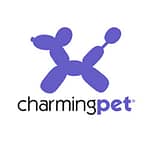 Charming Pet is a pet toy brand that has been in the business of making tough toys for your pets since 2007. Having teamed up with Outward Hound, Charming Pet is affiliated with a pet toy distribution giant, so customers know they are getting high quality, durable and innovative pet toys.
Charming Pet toys come in a wide range of quirky characters made from various materials. Soft and plush, tough and durable; from rope tuggers to light-up toys, squeakers, and multi-textured dynamic toys to suit all kinds of doggy toy tastes. The cute range of farm animals, wild animals and fantasy animals will keep pets busy for hours – enthralled enough to play on their own, while the toys are plush and beautiful enough to encourage humans to play with them too!
What sets Charming Pet toys apart from the rest is the exceptional durability of their products. Their new range is made with K9 Tuff Guard, which ensures that the toys don't rip through the tough denier canvas, the seams are double stitched and the typical ripping points are reinforced with nylon.