Afrivet
Show Filters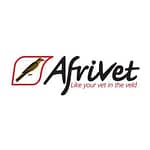 Afrivet is an animal health company that focuses on the African and South African stock and animal health industry. Not only do they provide a range of health and disease-prevention products for animals – also focusing on food security and safety – but they also provide knowledge services and solutions for animal owners, vets and farmers. Afrivet distributes information pamphlets and online information to assist animal owners to provide the best treatment and care for their stock and pets, and also provide technical support and valuable after-sales service.
Afrivet provides its customers with animal care products like antimicrobials, a variety of parasite remedies, vitamin and mineral supplements, production enhancers, wound treatments, disinfectants, feed additives and vaccines.
Afrivet is not just a product and information supply company, but an important player in the animal care industry in South Africa and Africa, offering research and development services (done both locally and internationally), quality control, manufacturing, sales and marketing, warehousing and distribution, as well as technical support.