Whimzees
Show Filters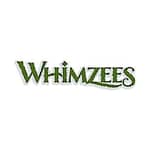 The WhimzeesTM brand was founded in 2008 by a company of Dutch people who are extremely passionate about dogs and dog owners, and aspire to see both incredibly happy. It is their aim to bring the best, healthiest and most fun dental products for pets to the world, and to do it in a socially responsible and sustainable way.
WhimzeesTM dental chews are made with high quality ingredients and produced according to the highest manufacturing standards. WhimzeesTM are made from natural ingredients – containing no preservatives, colourants, artificial flavours, meat or GMOs – and are high in fibre. These fun dental chews ensure less plaque, less tartar and more doggy smiles.
The range of WhimzeesTM chews come in different designs, which are not merely aesthetic – they are designed to clean differently and get into all those hard-to-reach places. Whether it's the WhimzeesTM Toothbrush, Stix, Hedgehog or the new Alligator, these treats will clean teeth and promote healthy gums while dogs chew and enjoy!