PetSafe
Show Filters
Showing 1–12 of 31 results
Showing 1–12 of 31 results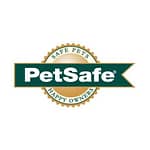 PetSafe is the American manufacturer of electronic pet products, specialising in training and behavioural products. They are 100% dedicated to the most innovative research and development process to ensure the perfection and safety of their products. The PetSafe team is made up of pet-loving people and their consultants include some of the world's top trainers, vets and behaviourists. Each PetSafe product is put through rigorous in-home testing to ensure it passes in real-world conditions.
PetSafe is most well-known for their training collars, which include ultrasonic and static bark control versions. These collars detect when a dog is barking incessantly and they deliver either an ultrasonic tone or a static pulse to deter the barking. They also have bark control devices for outdoor use, disguised as garden features.
PetSafe also produce a range of pet doors to give pets freedom of movement into and out of the house. They are also particularly innovative in the realm of pet feeding and hydration solutions and make a range of automatic feeders and drinking fountains to ensure dogs and cats are fed on schedule even if their owners are late.