Pedigree
Show Filters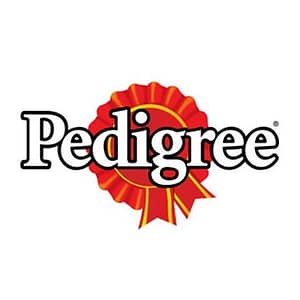 Pedigree is a widely recognised American company established in 1957 by its founder, Forrest Mars, with products designed to meet the needs of every dog.
What type of products does Pedigree offer?
Pedigree makes various dog products, including complete wet and dry food, tasty treats, and oral care products. Pedigree's dog food is made with chicken, rice, and vegetables to provide balanced nutrition. They create different products that help dogs stay safe and healthy in four essential ways:
They help enhance dogs' natural defences, boosting their ability to stay healthy and protected.
These products also contribute to maintaining a shiny and healthy skin and coat, promoting a vibrant and lustrous appearance.
In addition, they support good digestion, aiding in the proper breakdown and absorption of nutrients for optimal health.
Lastly, Pedigree products help keep dogs' teeth strong and healthy, ensuring proper oral hygiene and dental care.
What sets Pedigree apart from the rest?
Pedigree's products are nutritious, convenient and very tasty for dogs. In addition to creating delicious treats and enjoying playtime with dogs, Pedigree is passionately committed to ending dog homelessness. They work tirelessly to find solutions and make a positive impact in this area.
Pedigree – Feed the good in dogs of all ages and all breeds.