Oxbow
Show Filters
Showing 1–12 of 65 results
Showing 1–12 of 65 results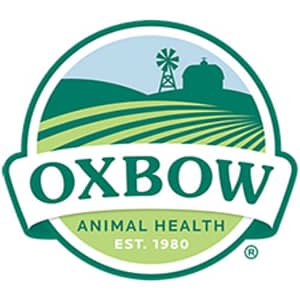 Oxbow Animal Health is a family-owned company that started in 1980 with farmer John Miller in his garage on his farm. Over the years, Oxbow became a trusted brand name amongst pet owners. One farmer's passion has become a global commitment to small animal health.
What type of products does Oxbow offer?
Oxbow Animal Health provides high-quality products with nutritional value for small pets such as rabbits, guinea pigs, chinchillas, and other mammals. Their assortment ranges from food and hay to supplements and accessories.
Popular products include Oxbow Timothy Hay, Oxbow Essentials Adult Rabbit Food, Oxbow Critical Care, Oxbow Simple Rewards Treats, and Oxbow Enriched Life Accessories.
What sets Oxbow apart from the rest?
Oxbow knows the importance of providing small pets with daily enrichment and balanced nutrition. Oxbow focuses on every aspect of small pet care for the health and happiness of your pets.
Trusted by worldwide veterinarians and pet owners to deliver complete nutrition in every bite, Oxbow foods are designed to prevent unhealthy selective feeding behaviours commonly found with muesli mixes and foraging blends.