Orijen
Show Filters
Showing 1–12 of 16 results
Showing 1–12 of 16 results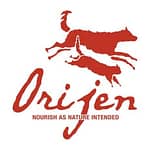 The name Orijen points back to the beginning or the source of animal nutrition. The brand takes a leaf out of the book of dog and cat ancestors, living on fresh, natural proteins. Orijen pet foods are biologically appropriate – meaning they are designed to nourish dogs and cats according to their evolutionary adaptation to a diet rich in a variety of fresh proteins. The proteins that go into Orijen foods are described as free-run, ranch-raised and wild-caught – raised or fished in Canada and delivered fresh to the Orijen kitchens.
Orijen pet foods are the award-winning products that come out of those kitchens, packaged to feed dogs and cats a highly nutritious protein-based diet. Orijen pet foods are developed to meet the separate needs of dogs and cats, but to also satisfy the different age and breed requirements of our canine and feline companions.
Choose from Original, Puppy, Puppy Large, and Senior Dog Foods; and Cat & Kitten for cats. Spoil your pup or cat with Orijen freeze-dried treats in a wide variety of delicious flavours.