Nina Ottosson
Show Filters
Showing 1–12 of 23 results
Showing 1–12 of 23 results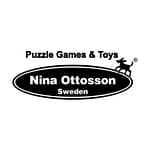 Nina Ottosson is the household name in exciting, mentally stimulating toys and games for pets. Nina began designing and developing activity toys and games for dogs in 1990 when she felt guilty about not giving her two Bouviers enough attention when her children were born. The toys are based on problem-solving activities to keep dogs mentally stimulated and physically active in the effort to retrieve the hidden treats. In order to find the treats, dogs need to turn discs, lift blocks, push blocks and relocate the blocks – activities that stimulate the dog, but also engage their owner and nurture the human-pet bond. Nina knows they work because she developed each toy and game with her dogs – toys developed by dogs, for dogs, with dogs!
Since dogs have different levels of intelligence, the Nina Ottosson toys and games are aimed at three different levels of problem-solving. The toys and games are developed with dogs' safety in mind and only made from materials that are clean and safe, contain no formaldehyde, and can be ethically disposed of through recycling or incineration.
With names like the Twister, Casino, Treat Tumble, Smart, Hide n Slide and Treat Maze, it's no wonder pets and their people get excited about Nina Ottosson toys!