Medpet
Show Filters
Showing 1–12 of 23 results
Showing 1–12 of 23 results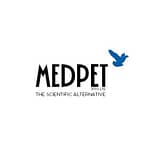 The South African company that would formally be incorporated as Medpet (Pty) Ltd started off in 1988 as a developer of medicines, vitamins and healthcare products for the avian racing industry. Focusing specifically on racing pigeons was quite limiting, so the company branched out into developing premium scientific products for companion animals – mainly cats and dogs.
The niche nature of pigeon racing and the restrictive number of products in the South African market to keep racing pigeons healthy and happy (and winning!) meant that Medpet could meet the needs of very passionate pigeon fanciers and raise their profile as an internationally recognised provider of avian medicines and supplements. It seemed like a natural progression to use their scientific background and veterinary links to support the companion animal market with high quality, yet affordable healthcare products.
Some of Medpet's well-known medicines for companion animals include MEDIWORM for dogs and cats; DOXYDOG and DOXYSYRUP antibiotics; ARTHRIMED for joint problems in dogs; OROVET for oral hygiene in dogs and cats; MEDIMUNE immune activator for dogs and cats; FLY REPEL for dogs, which kills ticks and repels flies; TEA TREE OIL shampoo; BIO-VITA and MEDICOTE for skin conditions; and AIR REPAIR air neutraliser.