Marltons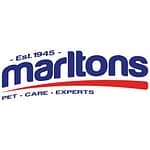 Marltons was established in 1945 and has since become South Africa's No. 1 pet care brand. They have a production facility in Durban as well as warehousing in Johannesburg, Cape Town, Durban and Port Elizabeth, in order to service distribution centres and retail outlets around the country. Marltons's aim is to provide easy-to-use and effective solutions for pet care – be that care for dogs, cats, birds, fish and other small animals. They are continually expanding their knowledge to deliver relevant pet care innovation.
Their passion for pet care is inspired by the unconditional love pets give to people – they believe that this love deserves expert pet care. Marltons offer all the products – from toys and chews, to bedding, training aids and grooming products – to help people give their pets the excellent care they deserve.
Marltons are also licensed to conveniently distribute a range of other brands in South Africa including (but not limited to) Tetra, FURminator®, Versele-Laga, Mark+Chappell and Canine CleanTM.
Show Filters
Showing 1–12 of 121 results