Francodex
Show Filters
Showing 1–12 of 16 results

Showing 1–12 of 16 results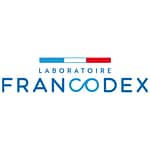 Francodex is an animal health brand that is part of the Zolux Group, established in France in 1933. Zolux is still a key player in the animal care field and the family business focuses on specialist pet products, with Francodex covering health products since 1985. The company offers animal health and care products for pets as well as birds, farmyard poultry, reptiles and horses.
In the pet care space, Francodex offers pet wellbeing products like anti-stress tablets, catnip spray, hairball control, and anti-itch lotion, as well as shampoos, cleansers, wipes and deodorisers to keep pets clean, itch-free and odour-free. They also offer a spot-on treatment that repels pests from your puppies, kittens, dogs and cats.
Francodex has been developing pet care products for many years, so their quality is in their longevity, with a brand focused on your pet's wellbeing.