Flexi
Show Filters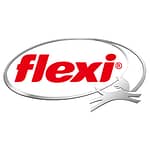 With quality in mind, flexi® is a German-made series of retractable pet leashes and accessories that are used the world over. The original flexi® lead was designed as a solution to the pet owner's need for control over their dog vs the dog's need for freedom and exercise. In 46 years and with products all over the world, the original flexi® has been developed into a series of retractable leads to suit every dog owner's needs and style.
Within the flexi® series, there are eight collections made up of 154 different flexi® products – whether your dog is large or small, needs a short, medium or long lead, a cord or tape, whether you prefer plastic, leather, day-glo or crystal glam – there is a flexi® lead for everyone (and their dog). Each lead is assembled by hand, put through rigorous testing and 90 quality checks before leaving the factory to ensure they comply with only the highest quality standards you can expect from German products.
flexi® believes in taking responsibility for your dog's wellbeing, so while you give him freedom of movement, you still have control over your pet. With flexi®, dog walking doesn't have to be a chore dictated by your dog or on which your dog has no freedom to explore – the flexi® reinforces your bond so that both owner and dog have a pleasant walking experience.