Eukanuba
Show Filters
Showing 1–12 of 20 results
Showing 1–12 of 20 results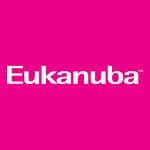 EUKANUBA™ is a premium pet food brand manufactured in the USA and available in South Africa, known for its Quality Promise and the wide range of nutritional options available to meet the unique needs of your pet. The brand's nutritional philosophy is that with dogs' ancestors being carnivorous, they should be fed accordingly: high-quality animal proteins are the main source of protein in EUKANUBA™ dog food.
EUKANUBA™'s long history and dedicated approach to the health and wellbeing of the animals it feeds means that the brand has contributed substantially to nutritional science. This contribution has also resulted in tailor-made nutritional solutions for dogs based on their life stage, breed, size, skin and digestive sensitivities, and activity levels.
The EUKANUBA™ formula provides high-quality, balanced, complete and palatable nutrition for a range of feeding profiles. The benefits of each range are listed in icons both on the packs of dog food as well as on the EUKANUBA™ website to make it easier for pet owners to provide their dogs with exactly the right nutrition they need to thrive. Choose from the PAWS range: Puppy, Adult, Weight and Senior.