Effivet
Show Filters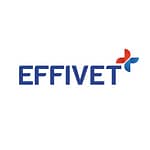 Effivet comprises a range of topical cleaning solutions for pets, which is manufactured by the Cf Pharma Company in Ireland. They specialise in health food supplements, medical devices, and advanced topical dermatological solutions for people and animals, and Effivet is just one of many brands under their Animal Healthcare banner.
The Effivet range consists of an ear cleaner, an eye cleaner and a skin and wound cleaner, the primary ingredient of which is hypochlorous acid (a pH-neutral electrolysed water solution). It has a cleaning and disinfecting function, yet is as neutral as water. It can kill germs, yet is completely harmless if licked or ingested. It works wonders on animals because Effivet does not expose them to harsh chemicals, it doesn't sting on wounds, and it is perfect for sensitive skin.
In South Africa, Effivet is marketed and distributed by Ascendis Animal Health (Pty) Ltd.