Earthborn Holistic
Show Filters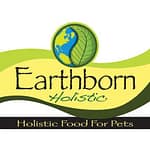 Earthborn Holistic® is a premium dog food brand that uses only the highest quality holistic ingredients to nourish your dog. They use the finest quality proteins, fats, fruits and vegetables as well as added vitamins and minerals to ensure your dog's energy, immunity, health and wellness are supported. All the ingredients are carefully balanced for optimal nutrition.
Earthborn Holistic® food recipes are based on the principles of dogs' ancestral diets being protein-rich to meet their nutritional needs. Grain-free foods like Earthborn Holistic® Primitive Natural™ and Coastal Catch™ are tasty and nutritious and ensure your dog's dietary needs are adequately met.
Earthborn Holistic® is rated as a premium quality dog food and independent reviewers have given this brand an excellent rating for quality of ingredients, dogs' positive response to the food, as well as positive customer feedback.