Dog-o-Pedic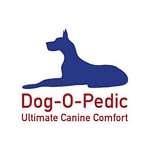 Dog-O-Pedic are the leading producers of memory foam mattresses for dogs in South Africa. They believe in giving dogs the 'Ultimate Canine Comfort'. Dog-O-Pedic was born out of the need to improve the lives of our canine companions – to give them high-quality, functional beds to sleep on, especially those dogs suffering from hip dysplasia, arthritis and general aches and pains from old age; as well as dogs recovering from surgery.
The use of memory foam in dog beds means that the dogs enjoy the orthopaedic benefits of the 'weightless sleeping environment'. It's easier on their bones and joints, providing comfort during all the time they spend sleeping – usually up to 50% of the day! Memory foam is the perfect sleeping surface because it comfortably supports the shape of the dog and is slow to return to its original shape once depressed. It is very warm and comfortable, which aids in the healing process after surgical procedures or treatments.
Dog-O-Pedic's products include a range of memory foam mattresses, mats and beds in different sizes, as well as a range of removable and washable covers.
Showing all 8 results