Dermoscent
Show Filters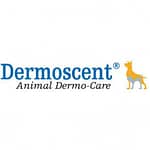 Dermoscent® is the brand name of products from the Laboratoire de Dermo-Cosmétique Animale (LDCA) (loosely translated as Laboratory of Animal Skin Cosmetics) in France. Since 2003, it's been the LDCA's mission to provide vets and pet owners with natural and innovative, safe, efficient and easy-to-use skincare products. They want to provide skincare products to enhance animals' skin health and to curb the use of medicines to treat animal skin conditions.
The Dermoscent® range was developed by vets for vets, and each product has been developed by a technical team of veterinary dermatologists and pharmaceutical specialists.
Dermoscent® products promote skin health – the shampoos and spot-on treatments moisturise your dog or cat's skin to reduce dryness and prevent scratching; while the balms aim to nourish the paws and nose, and to soften calluses as well as to treat superficial abrasions. Dermoscent® also makes a pet SPF called SunFree and an ear canal cleansing treatment called PYOclean OTO. Dermoscent® Atop 7 Shampoo helps to soothe dry, irritated and allergy-prone skin in both dogs and cats.