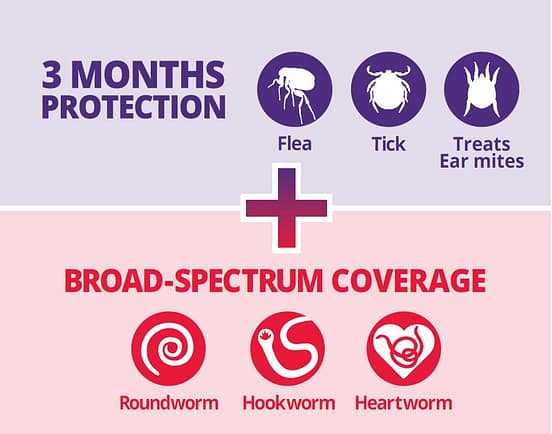 Most cats are curious by nature, so they explore the great outdoors to their heart's content, but they may bring home more than you bargained for. Keep your curious cat safe from external and internal parasites with Bravecto Plus for cats.
Long-term efficacy
This spot-on treatment lasts for 3 months, so it breaks the flea lifecycle and also provides great protection against other parasites. The 3-month efficacy also means that you don't have to apply a parasite treatment as often as before, which ensures you and your cat maintain a bond of trust and comfort (no more nasty scratches if your cat thinks you're going to do something unpleasant to her).
Active ingredients
The Fluralaner goes to work against ticks, fleas and ear mites, while the Moxidectin protects your cats from hookworm, roundworm and heartworm.
Spot-on treatment
All you need to do is twist the pipette (the cap doesn't come off completely) to open the tube. You'll feel the seal break. Make sure your cat's back is horizontal (she can be standing or lying down), part the fur at the base of her skull and apply the treatment on one spot (for cats up to 6,25 kg) or on two spots (for cats heavier than 6,25 kg). Wash your hands after application.
Be sure to keep your cats protected against external and internal parasites all year 'round. With Bravecto Plus spot-on for cats, that means just four times per year.