Boelie's Bites
Show Filters
Showing the single result
Showing the single result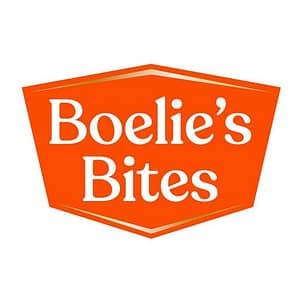 Boelie's Bites is proudly South African. It is a groundbreaking, steam-cooked, completely balanced maintenance feed for adult dogs. It is rich in vitamins, minerals, Karoo ostrich oil, and high in Omega 3 and 6.
What type of products does Boelie's Bites offer?
Boelie's Bites is a fantastic dry dog food option for adult dogs, no matter their size. It's filled with protein and beneficial nutrients like Omega 3 and 6 fatty acids, which promote shiny coats and healthy skin. This food will keep your dog full for longer, making it perfect for dogs with high energy levels. Give your furry friend the goodness of Boelie's Bites and watch them thrive with a shiny coat, healthy skin, and lasting energy.
What sets Boelie's Bites apart from the rest?
Proudly South African
Karoo Ostrich Oil
Pork-free
STEAM COOKED for goodness and nutrition!
Created with multi-dog families in mind
Boelie's Bites offers complete product traceability through a short supply chain, ensuring a safe and transparent journey to your dog's bowl. They prioritise affordability without compromising on quality.
Boelie's Bites are nothing but goodness!