All for Paws
Show Filters
Showing 1–12 of 58 results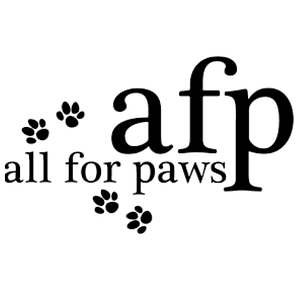 All For Paws is a lifestyle Pet Brand uplifting the lives of pets and their humans, specialising in designing unique products. Established in 1997 with years of expertise in serving global customers, the pet lover team is proud to develop meaningful product collections that satisfy pets' needs and suits the ever-changing lifestyle of their owners.
What sets All For Paws apart from the rest?
All For Paws is a company that specialises in designing unique products that cater to your pet's health and wellness. The products aim to provide mental stimulation, physical exercises and ease boredom.
What type of products does All For Paws offer?
All For Paws provides a variety of dog products such as toys (interactive, chew and fetch toys), essentials (bedding and bowls),  carriers and travel (crates and mats), clothes and accessories (collars, leashes and harnesses), and health and wellness products (dental, grooming and anxiety relief).
Cat products include toys (interactive, teasers, scratchers, balls), essentials (bowls, feeders, beds and furniture, and litter boxes) and health and wellness products (dental care, anxiety relief and calming dIffuser).